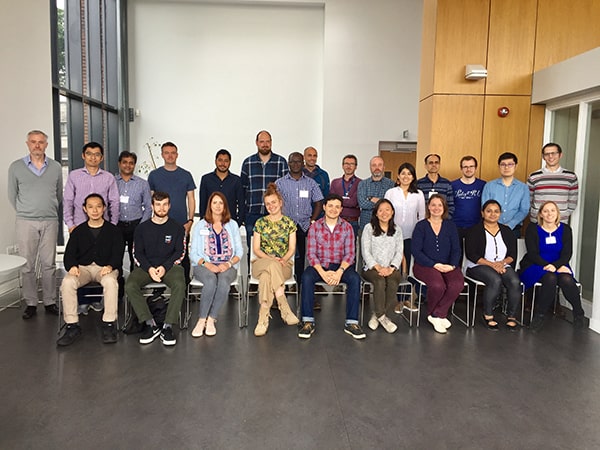 THIS EVENT HAS BEEN POSTPONED UNTIL FURTHER NOTICE
The MRC-University of Glasgow Centre for Virus Research (CVR) in collaboration with the National Veterinary Research Institute (NVRI), Vom, Nigeria, pleased to announce that applications for the 6th Annual Training Course on Viral Bioinformatics and Genomics are now open.
Venue: National Veterinary Research Institute, Vom, Plateau State, Nigeria
Course Dates: 16th-21st August 2020
Course Fee: $350 (Includes course material, accommodation, and meals)
This 5-day course consists of a series of lectures and practical exercises that directly address viral bioinformatic challenges posed by the current surge of sequence data. Participants will understand and deal with high-throughput sequence datasets. This course also encourages the exchange of ideas among diagnosticians, virologists, bioinformaticians and evolutionary biologists.
This course will provide participants with a working knowledge of viral genome sequence analysis and interpretation of genomics data generated from high-throughput sequencing. Participants will learn to work on Linux/Unix operating system and use the command line to perform analysis.
Target audience
The course is open to applicants based in the African continent engaged in relevant research activity. The workshop is designed for researchers at various levels including Senior Researchers to Ph.D. students.
The workshop will cover the following topics:
HTS sequencing technologies: an overview of the different HTS platforms and sample preparations.
Introduction to Unix and essential bash scripting.
Reference mapping: aligning sequence reads to a known reference and visualizing the alignment (e.g. bowtie2, BWA, Tanoti, Tablet, UGENE).
Variant calling: consensus sequence generation, low-frequency variant calling and error correction (e.g. samtools, LoFreq, DiversiTools).
De-novo assembly: overlap layout and de Bruijn graphs approach for sequence assembly, quality assessment and merging contigs (e.g. ABySS, SPAdes, MIRA, IDBA-UD, QUAST, Mauve).
Metagenomic analyses: sanitizing sequence datasets, assembling, annotating, visualizing (e.g. MetAMOS, Krona, DIAMOND, Kraken).
Genomics: scaffolding, improving and finishing the assembly, gene annotation (e.g. ICORN, Artemis, RATT).
Phylogenetic analysis: introduction to multiple sequence alignment and phylogenetic reconstruction (e.g. Muscle, PhyML, FigTree).
Prerequisites
To maintain a good ratio of tutors to participants, the enrolment will be limited to 16 students. Preference will be given to applicants who:
have some familiarity with HTS technologies
have already or are planning to generate viral HTS data in their work
have an interest in computers and programming (some basic experience in a command-line environment is necessary)
Instructors
Prof. Matthew Cotten (MRC/UVRI & LSHTM Uganda Research Unit, Uganda)
Dr. My Phan (Erasmus University Medical Center, Netherlands)
Dr. Jean-Baka Domelevo Entfellner ( International Livestock Research Institute, Kenya)
Prof. David Robertson (MRC-University of Glasgow Centre for Virus Research, UK)
Dr. Sreenu Vattipally (MRC-University of Glasgow Centre for Virus Research, UK)
Registration
To apply, please fill in the online application form (http://bit.ly/BioinfNigeria) before 7th May 2020. You will be contacted within two weeks after the deadline if you have been shortlisted for the course.
For more information and for those unable to access this Google application form, please contact Dr. Sreenu Vattipally (sreenu.vattipally@glasgow.ac.uk).
Application deadline: 7th May 2020
Course dates: 16th – 21st of August 2020
Location: National Veterinary Research Institute, Vom, Plateau State, Nigeria